Tape Library Management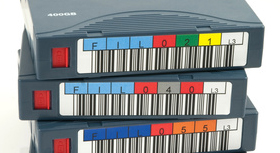 Got $5.5 Million to spare?

No? Because that was the average organizational cost in 2011 for companies that suffered a data breach. The good news is that the overall number of data loss incidents seems to be decreasing, but the careless disposal of tape media has increased significantly. And if you don't know exactly what back-up media you have and where you have it, the opportunity for mishandling your assets increase. We want to help you better control your tape environment, because you can't manage what you can't find.
How do you ensure the right tapes go offsite or to your customer locations? Do you have trouble gathering data and producing comprehensive reports on your tape library inventory to comply with audit and regulatory concerns? When it is time to destroy your backup tapes, do you have a way of tracking and ensuring the proper media is pulled for destruction?

American Eagle Systems offers a suite of solutions to address these very issues. We can provide, label and initialize the tape, provide the racks, carts or safes to store them, the software to track them, the personnel to inventory and relocate your entire tape library, and then can even assist with the eradication or destruction of tapes you no longer need. Contact us today to arrange for a walkthrough of your facility so that we can better assess your needs.
Click on a Solution in the list to the right to learn more.
Have a Question?
Want to know more about this product or service? Let our experienced staff help find a customized solution that works best for your business.