Data Center Cleaning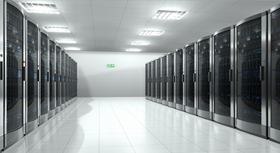 American Eagle Systems understands the impact proper data center cleaning has on your environment. We employ only highly trained and experienced data center cleaning technicians with equipment and chemicals developed specifically for computer room environments. Our full service environmental reports provided after your cleaning will cover all important areas of your data centers physical environment, from particle counts to sub-floor barrier integrity and everything in between.
Cleaning is not limited to data centers! Nearly all your environments can benefit from a cleaning including network control areas, UPS rooms, server rooms, telecom rooms, raised floor areas (sub-floors) and any critical environment technology facility.
Why clean your data center?


Results in an environmentally clean and healthy data center atmosphere.
Promotes more efficient use of critical hardware intake and ventilation systems.
Makes a tremendous impression for prospects, clients, management and other visitors.
Reduces downtime risk due to particle buildup on circuit boards, servers and all other air cooled equipment.
Reduces downtime risk due to static discharge onto sensitive equipment.
Confirms quality and industry standards are met for data center environment benchmarks.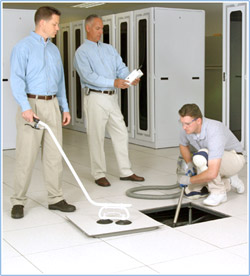 Common janitorial cleaners are not trained or insured to clean these environments and often cause more harm by using improper procedures and equipment; they simply do not understand the sensitive nature of these critical environments.
Services Include
AES compiles a complete set of tests in a report for you after your cleaning is complete. These include air particle monitoring, sub-floor anti-static seal tests, condition of sub-floor plenum, ferrous metal tests, microbial tests, black light sub-floor contaminant testing, vapor barrier inspection, temperature and humidity tests, airflow quality, inspection of equipment, and access floor surface static-dissipative quality tests.
Sub-floor Cleaning
Sub-floor Sealing
Equipment (server cabinets, ups, air handlers, etc)
Access Floors
VCT Floors
Command Consoles
Anti-Static Strip and Wax
Physical Disaster Recovery
Annual, Quarterly, Monthly, Weekly, or Daily Maintenance.



Contact Us Now!