We are currently fully operational during the COVID-19 outbreak. We are continuing to provide our standard Data Center Cleaning and Disinfection services as well as specialized daily, weekly, monthly or ad-hoc office and facility Sanitization Cleaning. All these services follow CDC and EPA regulations. Please contact us to discuss in more detail.
Data Center Cleaning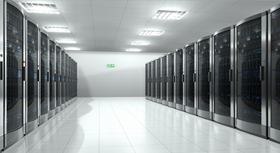 American Eagle Systems understands the impact proper data center cleaning has on your environment. We employ only highly trained and experienced data center cleaning technicians with equipment and chemicals developed specifically for computer room environments. Our full service environmental reports provided after your cleaning will cover all important areas of your data centers physical environment, from particle counts to sub-floor barrier integrity and everything in between.
Cleaning is not limited to data centers! Nearly all your environments can benefit from a cleaning including network control areas, UPS rooms, server rooms, telecom rooms, raised floor areas (sub-floors) and any critical environment technology facility.



Why clean your data center?


Results in an environmentally clean and healthy data center atmosphere.
Promotes more efficient use of critical hardware intake and ventilation systems.
Makes a tremendous impression for prospects, clients, management and other visitors.
Reduces downtime risk due to particle buildup on circuit boards, servers and all other air cooled equipment.
Reduces downtime risk due to static discharge onto sensitive equipment.
Confirms quality and industry standards are met for data center environment benchmarks.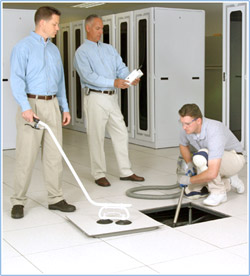 About Our Service
We follow stringent ASHRAE and ISO requirements to provide services to improve and maintain data center air quality. Our highly-trained technicians are certified to test for these dangerous forces before and after our cleaning services to ensure your Data Center is within specification.

Cleaning data centers means facilitating uptime through particle, static and residue removal at microscopic levels. Subfloor cleaning, access floor surface cleaning, server and cabinet rack cleaning, construction phase cleaning, ceiling and wall cleaning, and interior electronics decontamination are a few of our popular support services.

AES cleans and maintains all types of data center surfaces – including equipment, cable trays, ceilings, walls, floors, subfloors and more. From ESD conductive floors to raised floor tiles, our crews are experienced in using the proper cleaning methods, chemicals and equipment to properly care for all of your sensitive surfaces in the data center using certified GREEN equipment. AES technicians are trained to work in live Data Center environments, safely. Data center cleaning requires removing gross contamination (5 microns) as well as unseen particles (.5 microns), which could harm sensitive server, network and data storage equipment. That's what we do, and we're one of the best in the world at it.
Common janitorial cleaners are not trained or insured to clean these environments and often cause more harm by using improper procedures and equipment; they simply do not understand the sensitive nature of these critical environments.
Services Include
AES compiles a complete set of tests in a report for you after your cleaning is complete. These include air particle monitoring, sub-floor anti-static seal tests, condition of sub-floor plenum, ferrous metal tests, microbial tests, black light sub-floor contaminant testing, vapor barrier inspection, temperature and humidity tests, airflow quality, inspection of equipment, and access floor surface static-dissipative quality tests.
Data Center Cleaning (Server Rooms, Computer Rooms, MDFs, IDFs, Telcos, etc)
Subfloor Cleaning
Ceiling / Ceiling Plenum Cleaning
Post Construction Cleaning
Interior Server / Equipment Cleaning
Testing and Air Quality Certification
Consulting Services
Physical Disaster Recovery
Annual, Quarterly, Monthly, Weekly, or Daily Maintenance.


Training and Testing
AES technicians are trained according to ISO 14644, ASHRAE TC9, World Health Organization, and the Institute of Environmental Sciences and Technologies to help test & identify sources of contaminates during our cleaning services in your data center, ISP, Network, control Room or other critical environment. If indications of source contamination are in a high risk category, AES managers can provide options for laboratory testing to confirm specific contamination identification and provide current contamination levels to help you decide if remediation is necessary. AES is committed to providing you with the information you need to run a safe low-risk Data Center.

Contact Us Now!