Offsite Hard Drive Destruction
Avoiding Liability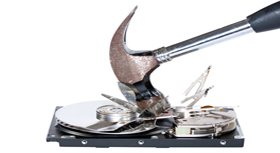 Used hard drives have little or no value, they take up space, and could prove to be a liability. The best way to protect your sensitive data is to physically destroy the drives by shredding. American Eagle Systems is a leader in asset recovery, data destruction and environmental recycling for hard drives. Our technology and expertise assure our clients that they are in compliance with both environmental legislation, and financial and accounting disclosure information legislation such as Sarbanes-Oxley, HIPAA, HITECH, Red Flags, Grahm-Leach-Bliley. Our services range from on-site degaussing, packing and removal of hard drives to the physical destruction of the drives and recycling.
Every asset received by AES is entered in to our database, carefully audited and processed. Audit reports are made available, and certificates of destruction are issued where applicable to guarantee the services rendered.
Services Offered
We are able to offer any combination of the following services:
Offsite Destruction: AES will pick up the hard drives at your location and securely transport them to our destruction facility.

Onsite degaussing of extra sensitive hard drives to completely eliminate data before physically destroying the drive.
Removal of the cases and caddies that surround the drive, scanning of serial numbers, packing, and transportation of material by our experienced, in house staff.
Hard Drive Sanitization and Physical Destruction: Remove the information from hard drives and media using DOD certified erasure software and the physical destruction of drives by shredding, for the ultimate in information security.
Reporting: Web based detailed reports which include the serial numbers, asset tags (when present), model numbers and date destroyed of all material. Certificates of Destruction are furnished indicating compliance with DEC and EPA standards.
Environmental Recycling: We will dismantle and stream associated scrap to refining operations to comply with EPA requirements

Don't occupy your technical staff with the task of consolidating retired assets and performing inventory functions when AES can coordinate and manage all aspects of your equipment removal and destruction, servicing even the most remote satellite facilities of your organization.