E-Waste Management - Zero Waste-To-Landfill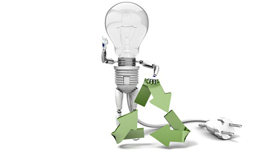 E-waste is the fastest growing part of the U.S. garbage stream. According to Time Magazine, Americans throw out more than 350,000 cell phones and 130,000 computers every day. Improperly disposed of, the lead, mercury and other toxic materials inside e-waste can leak from landfills and pollute communities. American Eagle Systems offers a range of solutions for all your specific e-recycling needs in compliance with all Federal, State and Local Regulations pertaining to the handling of electronic waste and hazardous waste materials encountered in your day-to-day business. We are able to provide you the transportation, treatment, storage, and recycling of nearly any piece of electronic equipment no longer being used by your business.
Our state-of-the-art system for tagging electronic waste provides a complete Chain of Custody for the asset. Our insurance coverage indemnifies you against further liability once the equipment is in our hands, and gives you peace of mind that you are helping the environment.
Items and Industry
General: Computer and peripheral equipment: central processing units (CPUs) monitors, printers, scanners and keyboards
Telecommunications equipment: telephones, cell phones, PDAs and pagers
Office equipment: copiers, fax machines, imaging systems and calculators
Entertainment equipment: TVs, stereo components, audio visual equipment, video recorders, cameras, CD and MP3 players
Telecommunications equipment: switching systems, PBXs, transmitters, receivers and microwave systems
Test and measurement equipment: oscilloscopes, power supplies, signal processors and testers
Financial: Networking systems, computer servers, storage devices, scanners, ATMs, retail check-out and cash registers, monitoring and detection systems
Medical Industry: Machinery used for EKGs, MRIs, CAT Scans and X-rays
Manufacturing Industry: Control systems, data entry devices, workstations, instruments, process tools, robotic systems, automation equipment, power generation
Automotive Industry: Control systems, audio and video systems, instrumentation, navigation systems, diagnostic and safety systems
Military and Defense Industries: Weapons control, communication, navigational and encryption systems
Aerospace Industry: On-board control, communication and navigation, radar and traffic control and in-flight entertainment systems
Other: Fluorescent Bulbs, Ballasts, Batteries, All Mercury Containing Devices


Every asset received by AES is entered in to our database, carefully audited and processed. Audit reports are made available, and certificates of destruction or recycling are issued where applicable to guarantee the services rendered.

What Is Provided
The whole process, including the trucking, can be videotaped to prove compliance, and either watched live, or DVD provided to the customer. Everything is performed under Department of Defense (DOD: 5220.22M) standards. All hazardous components (batteries on circuit boards and portable equipment, mercury switches, toxic capacitors, fluorescent lamps, leaded glass from monitors, etc.) will be extracted prior to destruction. These are then disposed of in an environmentally sound manner, exceeding Federal and State regulations. Non-hazardous materials (paper, plastic, metal, glass, etc.) are recycled.
(COR)- Certificate of Recycling is issued once the material has been completely dismantled.
(COD)- Certificate of Destruction certifies that all electronic equipment and associated components have been dismantled and/or destroyed pursuant to all applicable laws.
EPA permitted and in complete compliance with Federal, State, Local, EPA and OSHA regulations:
Department of Environmental Protection (DEP)
NYS Department of Environmental Conservation (DEC) C7 Compliance
Department of Environmental Quality (DEQ)
Member of the National Association for Information Destruction (NAID)
International Organization for Standardization ISO-14001:2004 Standards
Resource Conservation & Recovery Act (RCRA) Background and Experience
Conformance to Audits and Inspections by federal and state agencies on a regular basis