Offsite Tape Media Destruction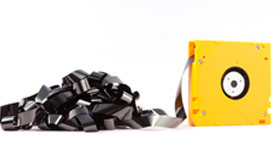 Used tape media not only takes up space but could prove to be a liability. The best way to protect your sensitive data is to physically destroy the media by shredding. American Eagle Systems is a leader in asset recovery, data destruction and environmental recycling for tape media. Our technology and expertise assure our clients that they are in compliance with both environmental legislation, and financial and accounting disclosure information legislation such as Sarbanes-Oxley, HIPAA, HITECH, Red Flags, Grahm-Leach-Bliley.
We are fully aware of the obstacles corporations face to securely dispose of tape media without compromising the security of the sensitive data. We are able to provide you a complete solution by offering any combination of pulling, scanning, degaussing/eradicating, packing and destroying your tape media either onsite or offsite.
We can destroy any media type including but not limited to 3592, 3570, 3590E, 3590, 3490E, 3480, T10000, 9940, 9840, LTOI, LTOII, LTOIII, LTOIV, LTOV, DLT, SDLT, 5.25 Rewriteable, WORM Optical Disks, DVD, CD Optical, QIC, Travan, SLR Data Cartridges, 8MM, 4MM, AIT Mammoth Cartridges and Hard Drives.
Offsite Tape Destruction
AES will pick up the media at your location and securely transport it to our destruction facility. There, the procedures we have implemented provide for constant security of your data, and also an environmentally acceptable method of tape media destruction. A Certificate of Destruction is provided to your company.
Don't occupy your technical staff with the task of consolidating retired assets and performing inventory functions when AES can coordinate and manage all aspects of your equipment removal and destruction, servicing even the most remote satellite facilities of your organization.