Data Center Health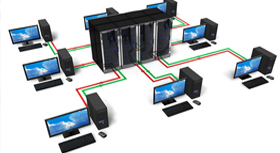 Management of an ever-changing data center landscape is a challenge for both IT and Facilities staff. Server and device technology is constantly evolving, and requirements for increased availability and redundancy are straining your physical infrastructure. Increased power, cooling, and back-up requirements are forcing IT departments to acutely focus on aspects of capacity planning for current and future data center needs.
Proper planning requires significant data gathering and assessment. AES can ease this burden and present you with the data you need through a suite of value-added consultative services. We can provide you with detailed information on existing data center conditions, as well as capacity planning details, facilities utilization/health, security policies, monitoring, power, and cabling infrastructure.
Contact American Eagle Systems today to discuss your current capacity and growth capability so that you can make the critical decisions regarding the health of your datacenter.
Click on a Solution in the list to the right to learn more.
Detailed Offerings
Have a Question?
Want to know more about this product or service? Let our experienced staff help find a customized solution that works best for your business.